I'll be teaching each summer with the core faculty Mary Lou Seereiter and Amy Matthews. This program is unique – it is set in the woods of Oregon and most students live on-site and eat meals together with the teachers.  The setting supports the notion that we are not separate from nature and that deep somatic work is connected to a deep relationship with nature.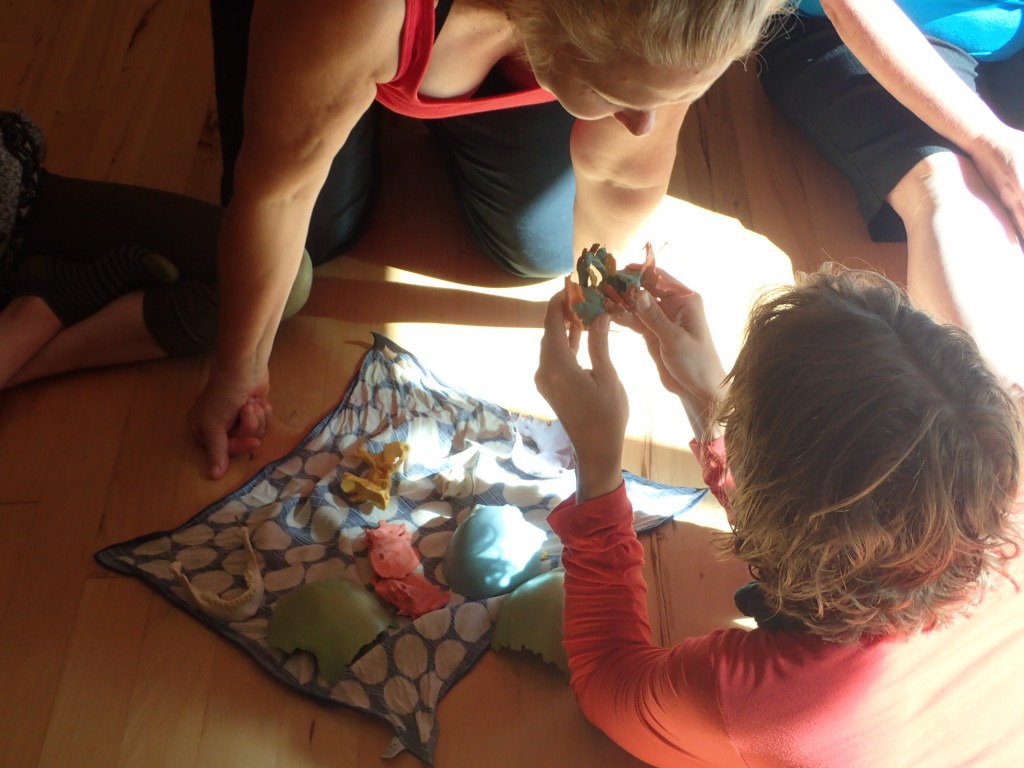 Students studying skull bones in the Skeletal course, August 2016
Rebound, Balance and Roll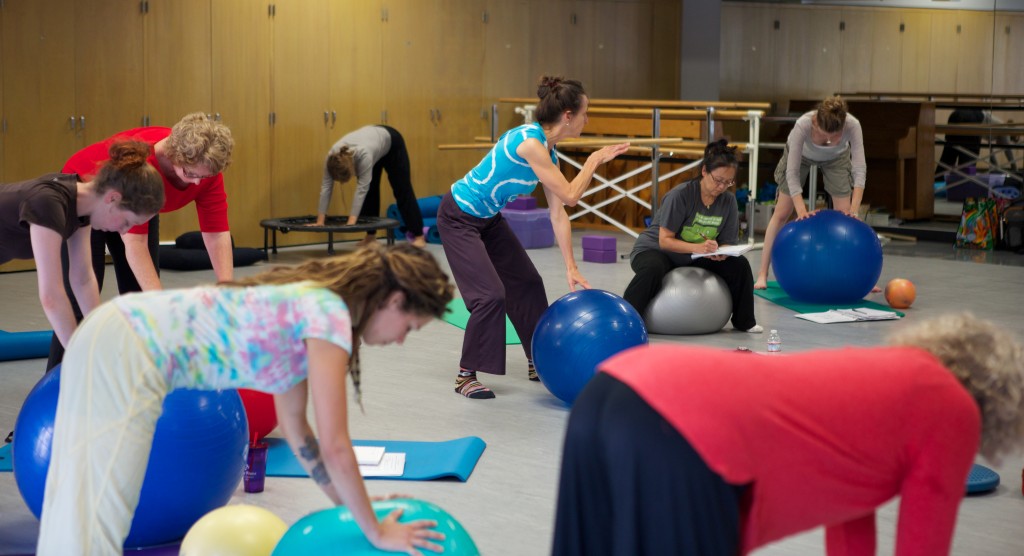 Sunday, Oct. 5,  2014
1 – 3pm
368 24th St., Oakaland
Teaching in BMC Training Program at Pomona:
Reflexes, Righting Reactions and Equilibrium Responses
and Ontogenetic Development
Claremont, CA
August 2013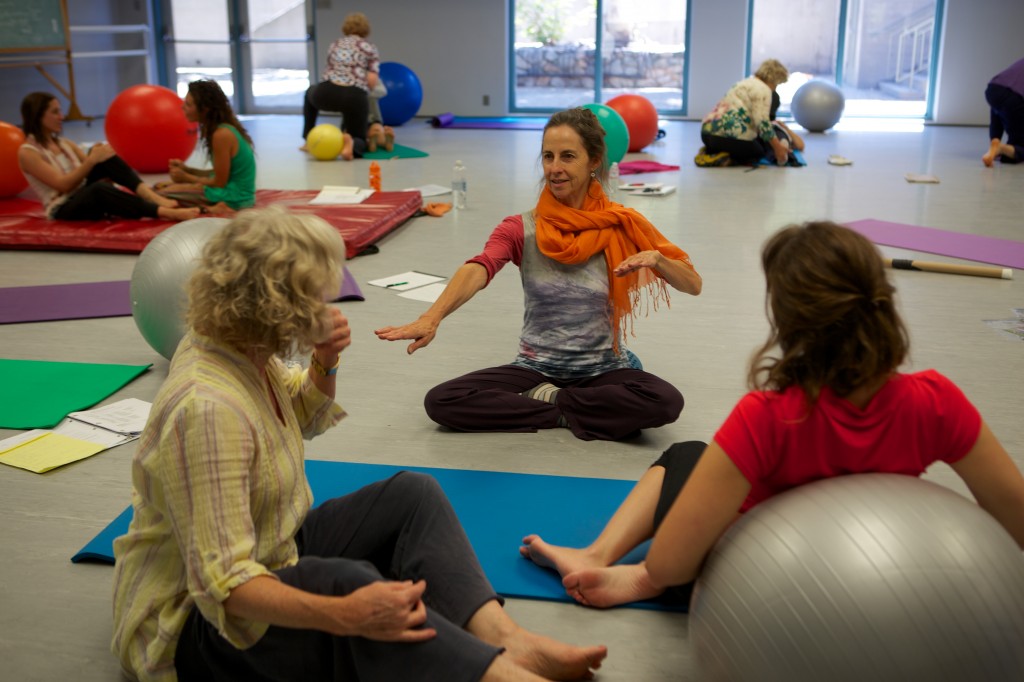 Senses and Perception Course,  Claremont, CA
June 2013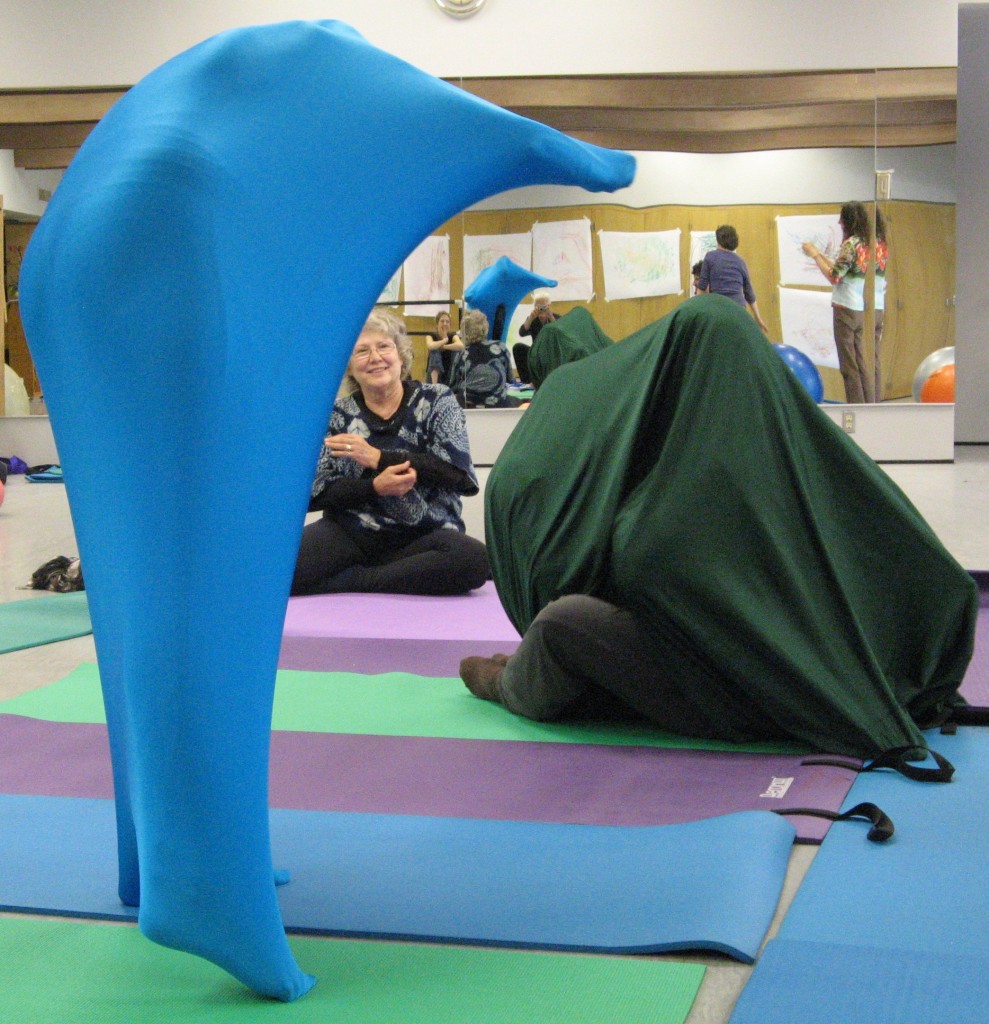 Proprioception Class
Teaching in BMC SME Training Program:
Reflexes and Ontogenetic Development Courses
Vussem, Germany
April 2013
Landing In Berlin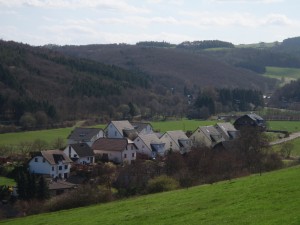 The BMC training was presented by Moveus in this tiny town called Vussem, Germany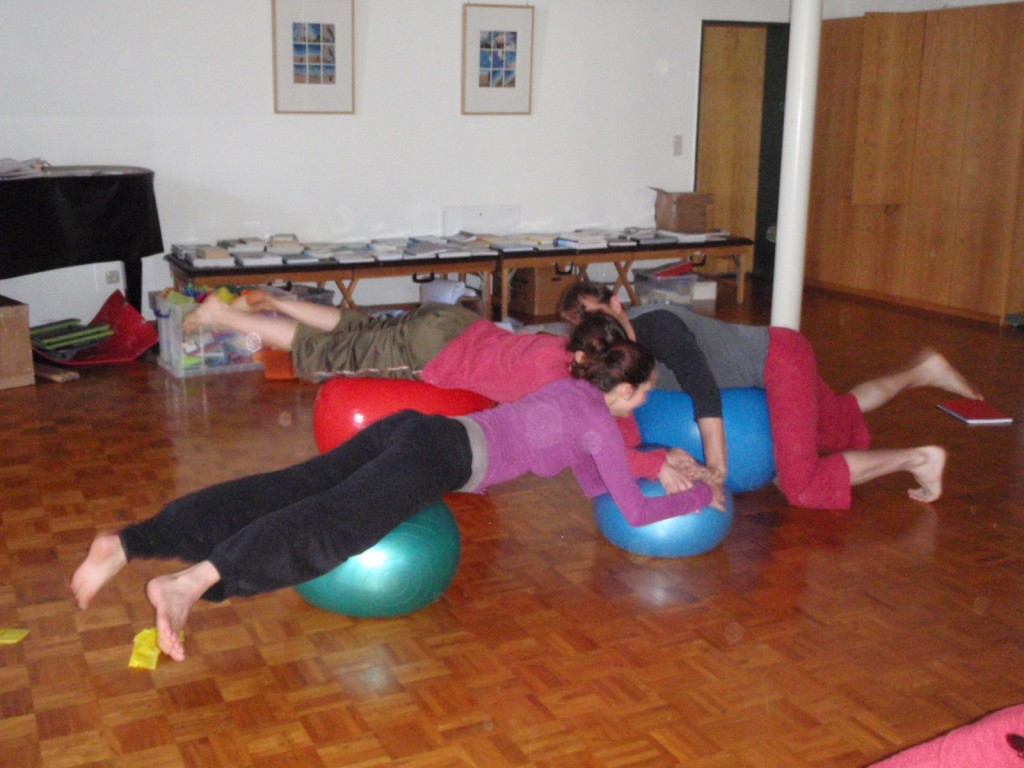 Reflexes, Righting Reactions, and Equilibrium Responses!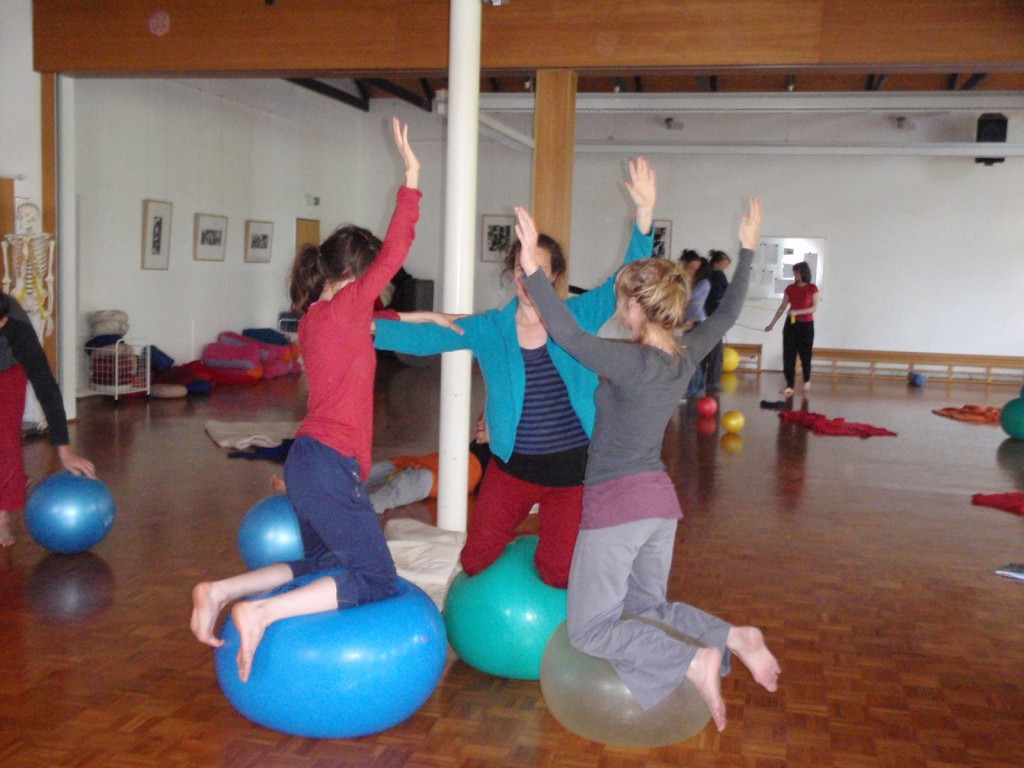 The RRR's – basic templates for all movement.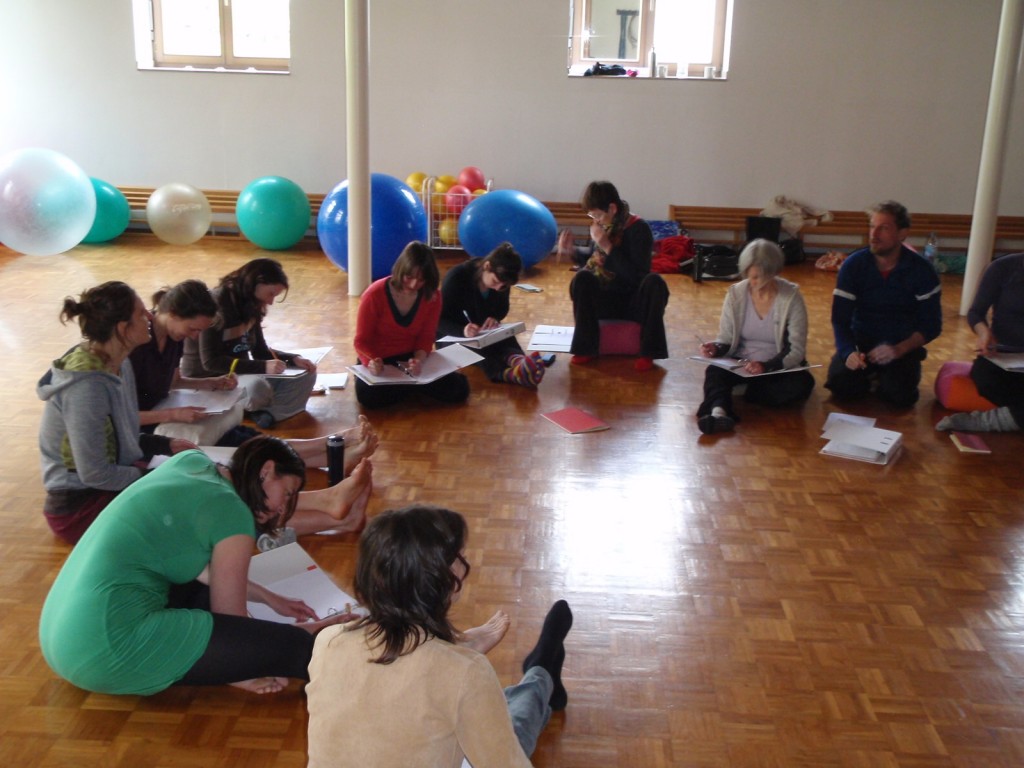 Sometimes the balls need to rest…
___________________
Teaching Classes at the Yoga Loft in San Francisco!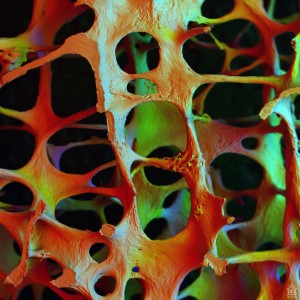 Body-Mind Centering Teacher Training in Paris, 2012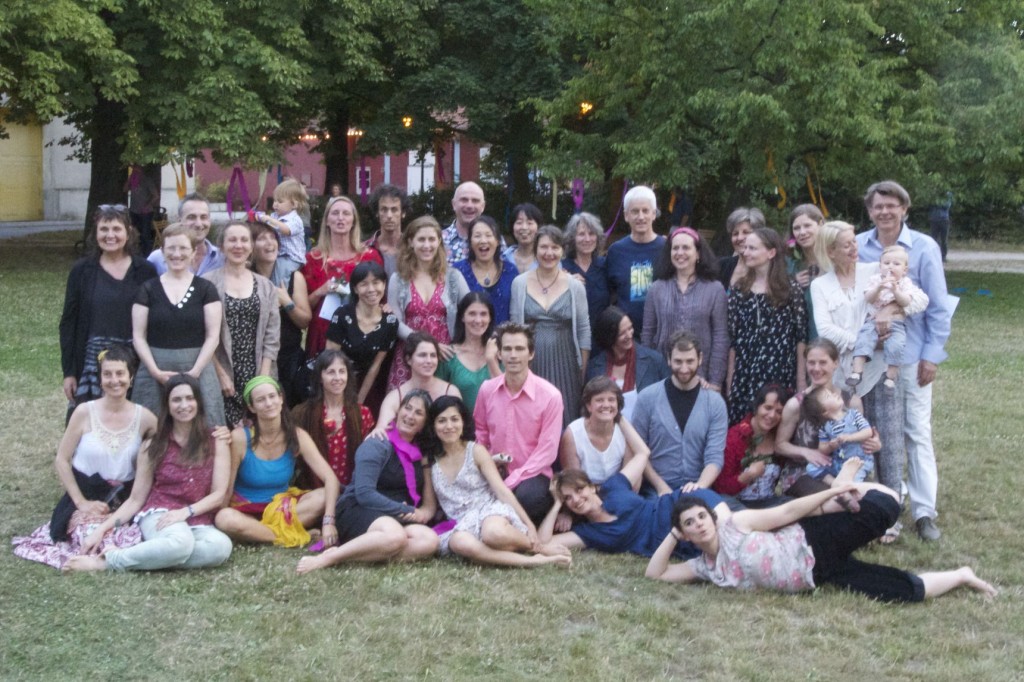 Our graduating class included students from Brazil, Argentina, Taiwan, Japan, Estonia, Hungary, Israel, France, Germany, Austria, Canada, New Zealand and the US, plus 3 babies.
After over 20 years of practicing Body-Mind Centering, I finally got the teacher certification plus an expanded international peer group with whom to share resources.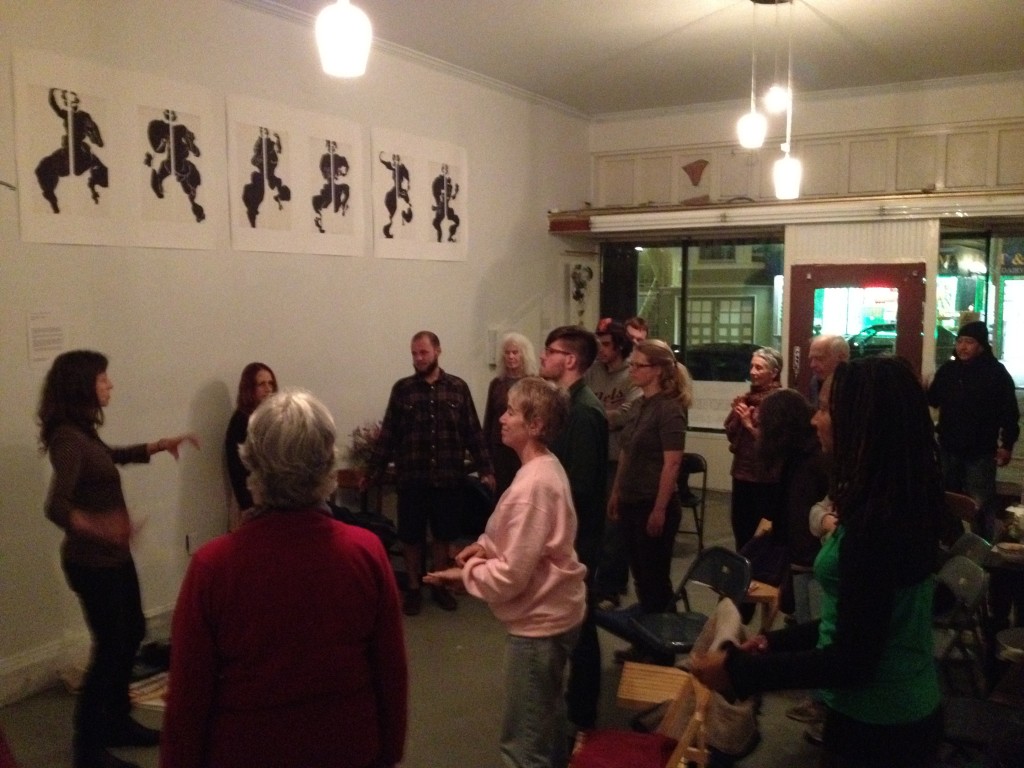 Rebecca Haseltine (far left) teaching an experiential class on the brain.
Kate Fox and her vibrant organization We Are = Movement created a pop-up gallery and movement space in San Francisco's Mission district in April 2012 with movement activities all day and a lecture series each week night, plus performances and workshops.  It was an exciting and inspiring event.
Rebecca Haseltine's artwork was a backdrop for many movement events: